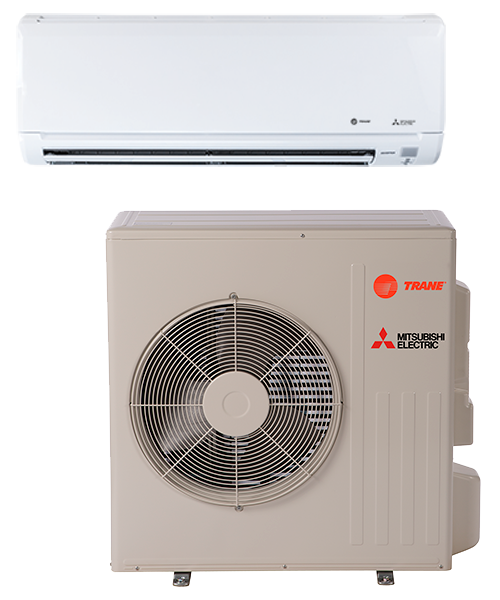 Trane®/Mitsubishi Electric is the top selling brand of zoned air conditioning and heating systems, and you will enjoy cleaner air and superior control of cooling, heating and your monthly energy bill. In addition to being quiet, intelligent and efficient, our systems provide extraordinary service life for a lower cost of ownership.
The essential components of a zoned air conditioning and heating system are the outdoor unit, the indoor unit and the smart comfort controls. The system operates by transferring heat to and from an outdoor unit to one or more indoor units. The units are connected by pipes containing refrigerant, a substance that absorbs heat.
In cooling mode, the refrigerant absorbs heat inside the home and produces colder air by transferring refrigerant from the indoor units to the outdoor unit, where the heat is expelled.
In heating mode, the process is reversed and the refrigerant absorbs heat outside of the home and provides warmth by transferring the refrigerant from the outdoor unit to the indoor units. This method of heat transfer — which works even in freezing weather — is powered by electricity and is much greener than conventional systems that burn fossil fuels during heating.
The outdoor unit is equipped with an INVERTER that enables it to quickly change the amount of power it uses and the amount of refrigerant it transfers to and from the indoor units. With the INVERTER, the outdoor unit only uses the precise amount of power needed to reach each zone's preferred temperature.
With single-zone equipment, one outdoor unit connects to one indoor unit. This option is ideal if you only need cooling and heating in a single space.
With multi-zone equipment, one outdoor unit can connect up to eight indoor units. This option is perfect if you need cooling and heating in multiple spaces with different functions, such as a nursery versus a kitchen or an office versus a conference room.
Trane® Mini-Split Indoor Ductless Units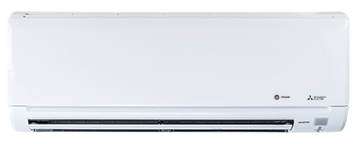 Standard Wall Mount ST
View Brochure
Model Family: NTXWST***
Purpose: Heat and Cool
Zone Capability: Single Zone and Multizone
Efficiency SEER/SEER2: Up to 24.6 SEER2
Efficiency EER/EER2: N/A
Efficiency HSPF/HSPF2: Up to 12.8 HSPF2
Matching Outdoor Unit: Single-Zone: ST series outdoor heat Pump NTXSST***
Matching Outdoor Unit: Multi-Zone: NTXMMX*** -NTXMPH***
Energy Star Rated: ENERGY STAR®
Refrigerant Type: R410A
Number of Fan Speeds: Vertical air swing
Sound Level: Quiet operation
Wireless Remote: Control Options available
Factory Warranty Parts: Registered Limited Warranty period: 10 years on internal functioning parts with registration;1year on internal functioning parts without registration
Manufacturer's Stated Benefits:
Installs quickly and easily, without the need for major construction and remodeling
Realizes maximum control and energy efficiency by cooling and heating only those spaces in use
Comfort control of temperature, fan speed, and air direction in each room via kumo cloud® or other smart home devices
Cleaner air with washable anti-allergen filters
Provides instant warmth even in extreme climates (down to -13° F)
Maximizes energy savings by using only the energy needed to perfectly cool or heat an area
Available capacities in kBtu/h: 09, 12, 15, 18, 24, 30, 36
Auto restart and auto cooling/heating changeover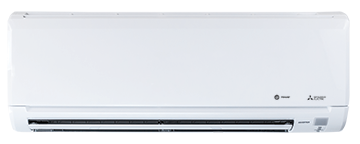 18 SEER Wall Mount – ML
View Brochure
Model Family: NTXWMT***
Purpose: Heat and Cool
Zone Capability: Single Zone
Efficiency SEER/SEER2: Up to 18 SEER2
Efficiency EER/EER2: N/A
Efficiency HSPF/HSPF2: Up to 10 HSPF2
Matching Outdoor Unit: Single-Zone: ML outdoor heat pump NTXSMT***
Matching Outdoor Unit: Multi-Zone: N/A
Energy Star Rated: ENERGY STAR®
Refrigerant Type: R410A
Number of Fan Speeds: 4 fan speeds
Sound Level: Quiet operation
Wireless Remote: Control Options available
Factory Warranty Parts: Registered Limited Warranty period: 10 years on internal functioning parts with registration;1year on internal functioning parts without registration
Manufacturer's Stated Benefits:
Available capacities in kBtu/h: 09, 12, 15, 18, 24
Anti-mold filter
Heating operation range: -4° F – 75° F
Cooling operation range: 14° F to 115° F
Comfort control of temperature, fan speed, and air direction in each room or zone via kumo cloud® or other smart home devices
Trane® Mini-Split Outdoor Ductless Units