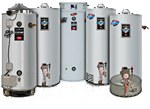 After heating and cooling, water heating is typically the largest energy user in the home because it is necessary for so many domestic activities. The capacity of a water heater is an important consideration. The water heater should provide enough hot water at the busiest time of the day. We offer a wide variety of carry tank, tankless, solar, and hybrid model water heaters.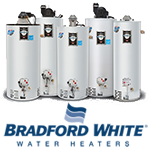 Bradford White
With a long and successful history dating back to 1881, Bradford White is one of the most technologically advanced manufacturers of water heating, space heating, combination heating and water storage products in the world. With headquarters in suburban Philadelphia and operation in Middleville, Michigan the company builds all of its products strictly for wholesale distribution. Bradford White products for residential, commercial and industrial applications are designed for installation by plumbing and heating professionals.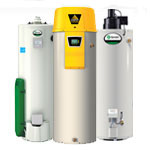 AO Smith
Everybody loves a hot shower. We all appreciate the convenience of clean clothes and dishes. And what can be more enjoyable than a relaxing dip in a hot tub or whirlpool? There's nothing like hot water, and one company has been delivering the world's hot water for more than 70 years...A. O. Smith. But today's A. O. Smith is about more than hot water. We recently entered the water purification industry to deliver clean water to consumers in China and other fast-growing parts of the world. It's all about water, and A. O. Smith has a singular focus on becoming a global leader in water technology.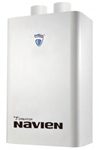 Navien
In 2006, Navien, Inc. was established to open new markets in the United States and Canada for parent company KD Navien. Navien has since become one of the fastest growing companies in the home comfort sector in North America, providing condensing tankless gas water heaters and condensing combi boilers. Navien's products possess state-of-the-art technology, high efficiency and reliable quality, making it the leader in the marketplace for tankless technology.
Navien has achieved international recognition for its sophisticated engineering and robust designs. Backed by more than thirty years of experience with advanced water heating technology, Navien will continue its mission to provide high quality products that are beneficial to both customers and the environment.